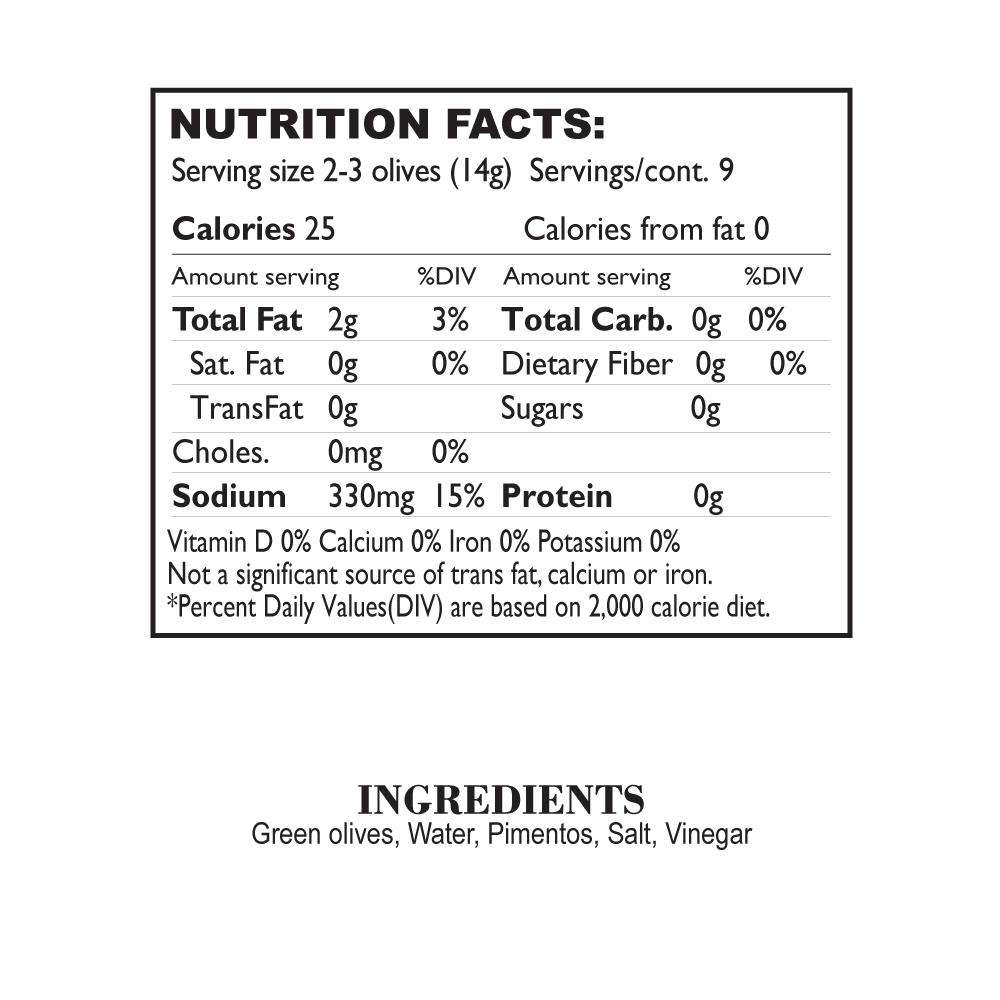 Our hand-stuffed Pimento Stuffed olives are a favorite for olive purists and martini drinkers alike. We take naturally cured green olives and stuff them with sweet and succulent cherry peppers. These olives are your classic, go-to martini topper or bloody mary garnish. Bathed in a perfectly balanced brine (a prime brine for a dirty martini), our Pimento Stuffed olives are delicious on their own, as a vital member of a charcuterie board, or thrown into your favorite briny, hearty recipe.
INGREDIENTS
Green Olives, Water, Pimentos, Salt, Vinegar
QUICK USES
These Pimiento stuffed olives are perfect as a topper for a martini or bloody mary.
Perfect dirty martini: 3 oz. of vodka, 1 oz. vermouth, and 1 oz. olive brine. Add ingredients to a cocktail shaker filled with ice; shake vigorously. Strain into a chilled glass. Garnish with Stuffed Pimento olives.
Try olive brine in your next bloody mary. Life changing.
Ideal for charcuterie and cheese boards, alongside cheeses and crackers!
Rough chop a handful of Pimento Stuffed olives and throw them on a salad or Italian sandwich.
Try a vinaigrette of olive oil, fresh grapefruit juice, apple cider vinegar, Pimento Stuffed olive brine and Dijon mustard. Serve with a butter lettuce and avocado salad.
IDEAL FOR
Martinis, cocktails, bloody marys, charcuterie boards, salads, sandwiches, vinaigrettes, dressings
THE PERFECT DIRTY MARTINI
USING:PIMENTO STUFFED OLIVES