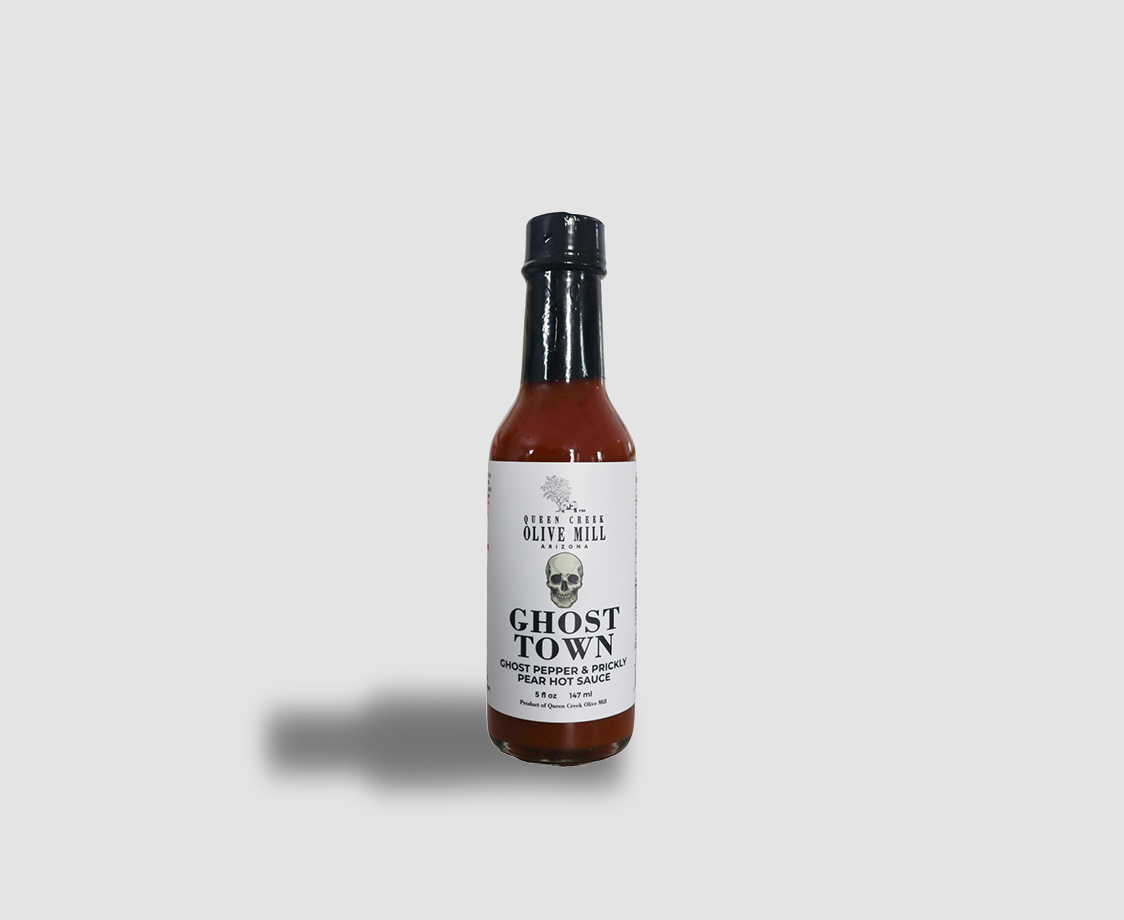 Are your taste buds ready? Ghoulishly hot and hauntingly spicy, our Ghost Town Hot Sauce gets its name from the historic ghost towns of Arizona. The name is also derived from the type of pepper we use to make it--the infamous ghost pepper. The ghost pepper scores at 1,041,427 SHU on the Scoville scale--about 200 times hotter than a jalapeño! We level out the insane heat with a touch of agave nectar and Arizona's iconic prickly pear puree, creating a delicious, uniquely Arizonan hot sauce. A dab will do you--don't say we didn't warn you!
INGREDIENTS
Jalapeño Peppers, Salt, Acetic Acid, Agave, Water, Prickly Pear Purée (Prickly Pear Cactus Fruit, Cane Sugar, Malic and Ascorbic Acids), Ghost Pepper Mash (Ghost Peppers/Bhut Jolokia, Salt, Citric Acid), Distilled Vinegar, Garlic Salt, Xanthan Gum
QUICK USES
Our Ghost Town hot sauce is excellent sprinkled into pasta dishes--that is, of course, if you love spice!
Try our Ghost Town hot sauce on your favorite pizzas, homemade or delivered. It'll give any slice a fantastic burst of spicy flavor.
Grilling meats or seafood? Our Ghost Town hot sauce is perfect to serve alongside steaks, burgers, and seafood
With the just perfect balance of spicy sweetness, Ghost Town hot sauce is fabulous as a finishing sauce for chicken wings.
Perfect drizzled over eggs and omelettes to take your breakfast game to an explosive new level.
Add a shake or two to your bloody mary for an unexpected spicy twist.
Blend with your favorite mayonnaise to create a spicy aioli
Swirl Ghost Town hot sauce into your fave hummus if it needs a "kick"!
IDEAL FOR
Pizza, pasta, grilled meat, grilled seafood, vegetables, eggs, chicken, Mexican food